Everyone loves game day — no matter what sport you're watching! It can be both thrilling and nerve-racking, but it's always fun for the whole family. But, don't forget the appetizers in all the excitement to watch your favorite sports team.
Delicious starters are a great way to keep your friends and family satisfied throughout the game, not to mention give them the energy to cheer for their favorite team the whole time! When you and your loved ones are getting ready to watch the next big game, consider some of our favorite first-course recipes you can serve.
Set up your game day for success with delicious starters
Whether you're attending or hosting the next game day, you'll want to bring a dish that your friends and family will love. But, with so many options to consider, it can be hard to know where to start. To make your decision a bit easier, we've compiled a list of popular slow cooker recipes for appetizers that will turn heads at your next get-together.
Why use a slow cooker to make your appetizer recipe?
Using a slow cooker, or Crockpot, for your game day starters can help you get the most flavor out of your food — with the least amount of work on your end. This helpful cooking tool can cook a wide variety of meat and foods, too. Keep in mind this appliance will take longer to fully cook your ingredients, so it's best to plan ahead for your recipes!
7 slow cooker appetizer recipes for your next big game
Check out some timeless slow cooker/Crockpot appetizers to consider below:
Recipe 1: Crockpot Pulled Pork Sliders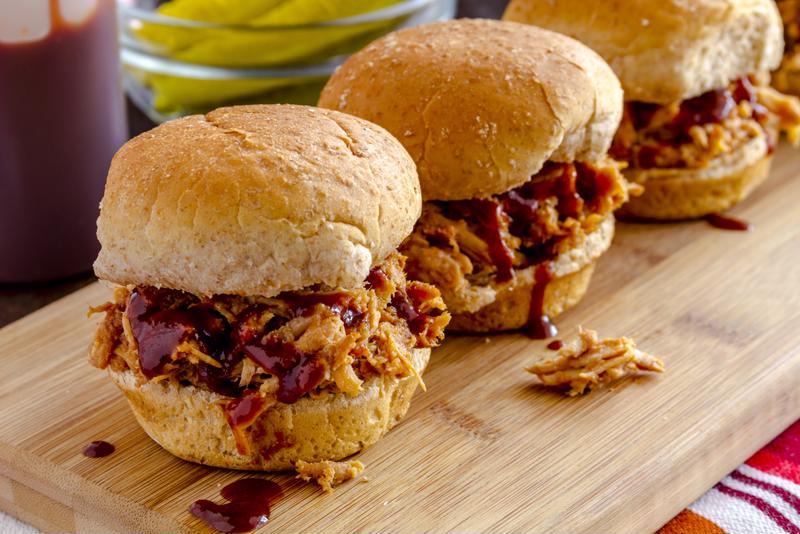 Nothing says game day like sliders — especially this slow cooker recipe with pulled pork that's both sweet and tangy. With help from your slow cooker, you can expect a tender and juicy result and an easy clean-up, too. This classic American barbecue dish will quickly satisfy any hungry, excited crowd. You can consider pre-marinated products like Tuscan Herb Boneless Pork Roast for an even simpler, and equally as delicious, process.
Recipe 2: Slow Cooker Taco Dip
If taco night is a staple in your family, then a delicious slow cooker taco dip, full of flavor, is probably just what you're looking for. This dip recipe calls for a mix of ingredients including ground pork, cheddar cheese, pepper, onion and taco seasoning for an appetizing result. You can easily guarantee you'll have enough to go around, and while your dip continues to simmer in your cooker, you can enjoy the game with your loved ones.
Recipe 3: Spinach Artichoke Dip
When it comes to finding the perfect cheesy dip for game day, you can't go wrong with a classic spinach artichoke dip. Here's one of our favorite slow cooker recipes for a dip that features spinach, artichoke hearts, cream cheese, sour cream and more — all you need is a bag of tortilla chips to go with it!
For the next big game, consider switching up this recipe for even more flavor by adding bacon. With Hardwood Smoked Bacon from Hatfield®, you can easily take a standard spinach artichoke dip to the next level. Your friends and family will be clamoring for the recipe!
Recipe 4: Slow Cooker Sausage Cheese Dip
Looking for another dip recipe your friends or guests won't be able to get enough of? This sausage cheese starter is sure to do the trick! With fresh cheese and only 6 ingredients, you can bring your loved ones together and help them enjoy every delicious bite. Who knew something as simple as a cheesy dip with sausage and tortilla chips could make your day?
Recipe 5: Slow Cooker Pizza Dip
When you think of pizza, you most likely think of the classic Italian dish. But for the next big game, you might go for a pizza dip instead. This crowd-pleasing, crockpot appetizer incorporates cheese, cream cheese, Italian sausage, pizza sauce and pepperoni slices and is a great make-ahead option when game day is right around the corner.
Remember, pre-marinated pork options can make all the difference! You might consider Recipe Essentials® Sweet Italian Ground Sausage or Recipe Essentials® Hot Italian Ground Sausage depending on whether you want this starter to have a strong kick to it.
Recipe 6: Slow Cooker Pulled Pork Nachos
If your family or friends love pulled pork, try this recipe for pulled pork nachos in your practically magical slow cooker. Nachos are a game day favorite, and using pork instead of beef or chicken is a great way to switch up the recipe for a unique but equally tasty result. The Texas Smokehouse Boneless Pork Roast from Hatfield® has a straight-from-the-Texas-Smokehouse flavor that's great for pulled pork in the slow cooker!
Recipe 7: Slow Cooker Sausage Stuffed Mushrooms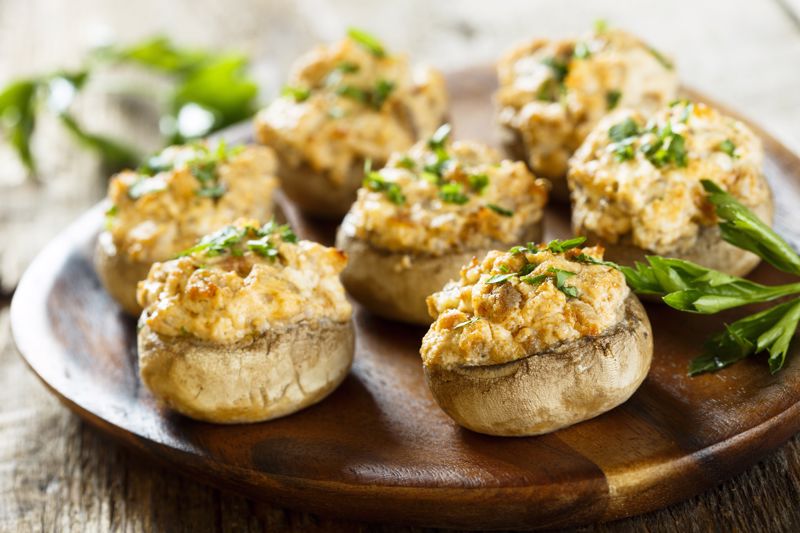 Mushrooms aren't for everyone but if your friends and family go crazy for them, then this appetizer recipe for stuffed mushrooms is the way to go! This calls for fresh white mushrooms to be stuffed with Italian sausage, parmesan cheese and mozzarella cheese to create a palatable flavor combination in each bite. At your next get-together, put out this starter for your guests and watch them disappear.
Looking for something else to bring to your next game day or tailgate? Explore more recipe ideas from Hatfield® to find just what you need and use our store locator to find your favorite Hatfield® products near you.
Other tips and considerations along the way
When game day is fast approaching and it's time to choose and present your slow cooker/Crockpot appetizers, here are a few tips to keep in mind:
Include a good variety of items: If you're making more than one dish or your other guests have volunteered to bring something, it's a good idea to make sure there's a variety of options available — if possible, try to have a vegetable, starch and protein option.
Go simple: The easiest recipes give you more time to spend with your loved ones. Find the slow cooker recipe that does most of the work for you and you'll be good to go!
The more flavor, the better: Starters that pack a punch of flavor in each bite are always the most popular, so it's best to aim for flavor throughout the process for the best results. Adding flavor can even be as simple as adding hot sauce or barbecue sauce as the final touch!
Make it easy for guests: Once your apps are ready to serve, make them easy to eat for your guests. That might mean adding toothpicks or skewers where possible, for example.
Take your game day hosting to the next level with help from Hatfield®
If you're hosting the next big game you'll likely want to make a great impression on anyone who attends — and that means ensuring every dish leaves them wanting more. How can you support consistently delicious results? By using high-quality ingredients!
For top-tier pork products that elevate any appetizer, Hatfield®'s got you covered. Our range of flavorful hams and ham steaks, boldly seasoned marinated pork, thick-cut bacon, sausages and more are all made with one goal in mind: to bring you simply delectable first-rate pork.
Because the pork products you choose matter, why not opt for high-quality? If you're ready to make game day appetizers that the whole family will love, you can find the Hatfield® products you need in a supermarket or grocery store near you using our store locator.